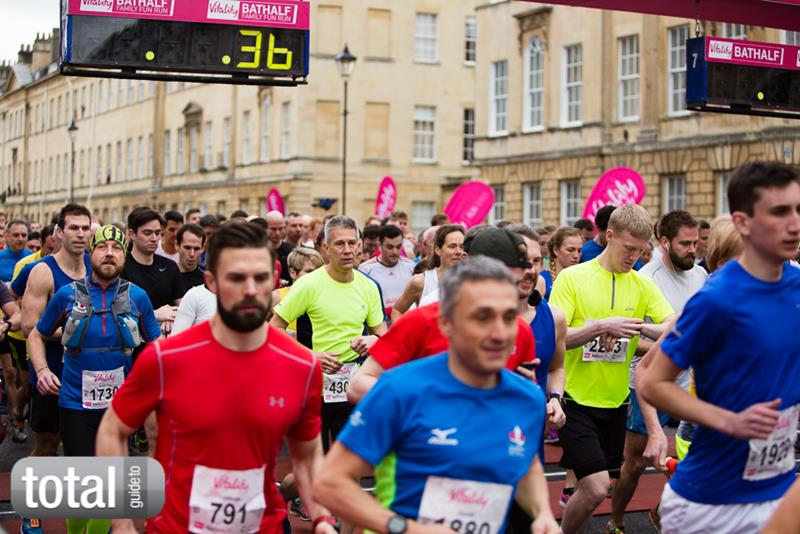 Total Guide to Bath Half Marathon
The Bath Half Marathon is one of the longest established and most popular city centre road events in the UK. With race day on March 15th fast approaching, we've assembled this handy guide where you can find everything you need to know!
The Bath Half Marathon or 'Bath Half', is one of the most established and popular city centre road race events in the country. As well as this, it is proudly the biggest fundraising event in the South West!
From the latest news to past photo galleries, you can find all the information about the Bath Half Marathon 2019 below...
The course itself is fast and flat making it suitable for all abilities – for beginners whose key objective is to complete the course, to more regular long-distance event runners, looking to beat their personal best time. It covers a two lap 13.1 mile (21.1km) traffic-free course straddling both sides of the River Avon. The race starts and finishes in Great Pulteney Street, in the heart of the World Heritage City of Bath.
You don't have to raise money for charity, but we're delighted that most of you chose to do so. If you have not already chosen a charity, why not run for one of the official race charities?
Bath Half are very proud of the event's reputation for its wonderful atmosphere, fast flat course and of course fantastic location. The Daily Telegraph voted The Bath Half '3rd Best Running Event' in their Top 10 Big Runs and Athletics Weekly rated the event as 'The Fastest Spring Half Marathon Course in the UK.'
Whether you're a runner, spectator or resident, you're in the right place to find out more about the events, including the Bath Half Marathon, Corporate Challenge and Family Fun Run; as well as the race charities, sponsors, training and medical advice.
Working Toward a Plastic Free Bath Half
"We have always been conscious of the environmental footprint of the Bath Half Marathon, and we work hard with our suppliers, contractors, partners and volunteers to reduce waste, encourage re-use and maximise recycling, constantly challenging ourselves to do more.
In 2019 we embarked on a new challenge to eliminate single use plastic bottle drinks from our event by 2021, starting with the introduction of some changes to our water stations. This year we provided water refill points in the Runners Village, and at the on-course water stations, where runners could re-fill their own water bottles. We also provided water in compostable cups at the last of our three water stations, as an alternative to bottled water, and we monitored those stations on race day.
We were grateful for the many runners who took part in our post race survey to let us know your feedback – your opinion matters to us, as we work together to find practical solutions.
The feedback was overwhelmingly positive – there is a strong feeling from runners that changes need to happen to reduce waste and plastic usage. Runners provided some great comments and thoughts on their experience and interesting ideas for the future. We're happy to share some of the key points:
37% of respondents brought their own water bottles to the race this year
46% of respondents tried the compostable cups at the third water station
78% of those who tried the compostable cups said they were 'excellent' or 'good'
In 2020 we are planning to introduce cupped water at our second water station, and at the finish. We are also selling our own branded 'BATHALF' refillable drinks bottles through our website, and we will be reviewing our use of plastic in other areas, such as goody bags."
Practise and prepare for the big race with Secret Run Series. They are a brand new running experience for adventure seekers. Unlock your hidden route on the run with a secret start and finish line...
A fun, safe and secret running adventure that helps you train for a new event just like Bath Half Marathon. Choose from the fun Explorer 5k route, or the more challenging Challenger 10k course or even the 21k Trailblazer.
In case you missed it see what's in this section